How to download a GIF from Twitter?
When somebody uploads a GIF on twitter.com, it's automatically converted to video and Twitter, while still calling it a GIF, technically is displaying a video file. That's why you can't simply right click a GIF posted on Twitter and click "Save image...", as you normally do on most other sites.
While this technique has some useful advantages (video files are usually smaller than GIFs and easyer to interact with), it can be annoying if you want to save or edit the image.
Our GIF editing tools are capable of handling Twitter links, so you can simply paste the tweet link in any of our tools, e.g. GIF optimizer, and it will download and display the video. You can then convert it back to .gif format with a single click and download it to your computer or continue editing with out tools.
Simply open the tweet, copy the URL from your browsers address bar, (it should look similar to this, just with a different user name and post number): https://twitter.com/YahooTech/status/641234556025184256 and paste it in our site. We will try to handle the rest.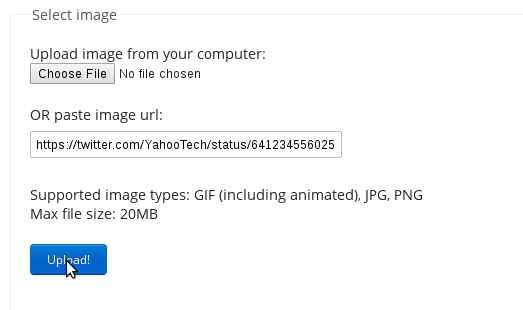 And the glorious result: